Skipper 2016
Il 26 ottobre 2012, a Les Sables d'Olonne, al villaggio di partenza del Vendée Globe il 10 novembre 2012, giornata dedicata agli skipper candidati alla prossima edizione del Vendée Globe. Cecilia Carreri è ufficialmente iscritta agli skipper candidati a fare questa competizione come prima e unica donna italiana.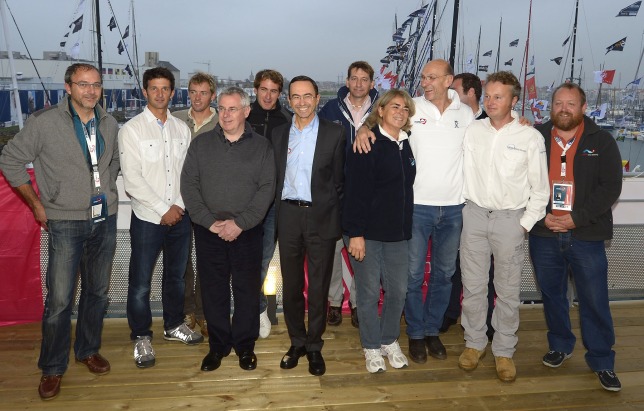 © Vincent Curutchet / DPPI

Copyright: www.vendeeglobe.org
2016 Skippers' Day: The Vendée Globe is preparing the future
ARTICLES | Saturday 27 October 2012, 16h58
The 2012-2013 Vendée Globe has not even started yet, but SAEM Vendée already has its eyes set on the future. On Friday, skippers considering launching a 2016-2017 Vendée Globe participation project gathered at the Sables d'Olonne Race Village where they met with Bruno Retailleau to attend the 2016 Skippers' Day. Immersing in the atmosphere of the race and networking were the main goals for the day.
Fourteen skippers of nine different nationalities got together on Friday at the Race Village in Les Sables d'Olonne for the 2016 Skippers' Day. These sailors dreaming of the Vendée Globe had been invited by SAEM Vendée and were greeted by Vendée General Council President Bruno Retailleau himself. The potential 2016 Vendée Globe skippers had an exclusive tour of the Race Village and the pontoons as well as the restricted areas such as the Media Centre, the race HQ and the technical area, which all contribute to the success of the organisation. The sailors had the opportunity to witness the outstanding dimension of the event!
The tour was guided by Race Director Denis Horeau and allowed them to find out more about the various fields of competence needed to organise such a competition, as well as the tools made available to them so they can work on their sponsor search for the 2016 edition.
« This is the first time we invite skippers preparing the next edition of the Vendée Globe, explained Bruno Retailleau. We realised organising this unique race just was not enough, we also had to assist skippers way before the race to give them a better chance to eventually be at the start. Many of the potential participants are not French, which matches our plans to give the Vendée Globe the international dimension it deserves. »
Attending skipper:
Thomas Ruyant (FRA)
Raphaël Dinelli (FRA)
Morgan Lagravière (FRA)
Guillaume Lebrec (FRA)
Cecilia Carreri (ITA
Steve White (ENG)
Christophe Bullens (BEL)
John Mac Kay (SCO)
Skippers represented or expected at the Race Village before the November 10 start
Norbert Sedlacek (AUT)
Jeff Lebesch (USA
Yannick Bestaven (FRA)
Ross Hobson (ENG)
Boris Hermann (GER)
Alex Pella (ESP)
The skippers said…
Steve White (England): « I'm sure being here today will help my project become even more real and my vision clearer. The Vendée Globe means the world to me, it makes anything else irrelevant, except my family of course. In the world of offshore sailing, nothing can compare, it is also the ultimate individual test, which is great for me. For some reason, I love pushing my limits and I also love being at sea ».
Cecilia Carreri (Italy): « The Vendée Globe is the ultimate dream, it's the dream of my life. Being in such close contact with the organisation team throughout the day is going to make my project more solid and more attractive to sponsors. It's really amazing! »
Thomas Ruyant (France): « I think this is a very good initiative. I had never been in Les Sables d'Olonne for a Vendée Globe start and I'm impressed. This has become a huge event with a huge organisation team ».
Lionel Pariset (France) representing Norbert Sedlacek (Austria): « Norbert has already competed in the Vendée Globe twice and he wants to be back in the race in 2016, after designing and building a new Open 60' yacht made of a new balsa wood and basalt composite, which is as resistant and efficient as carbon ».
Christophe Bullens (Belgium): « I haven't been really lucky in the last Velux 5 Oceans so I really want to compete in the Vendée Globe. I'll do my very best to be here in 2016 ».
Raphaël Dinelli (France): « I'm currently working on the development of my foundation and I can't be at the start this year. Days like this make me realise how much I'm going to miss this race… I'll do everything I can to participate in the 2016 edition on a yacht designed to use only renewable sources of energy ».
Morgan Lagravière (France): « The Vendée Globe is the next logical step in my career. I'd really love to be at the start of this epic race. I know I can count on the Vendée General Council to help me in my search for sponsors
Le Vendée Globe pense déjà à l'avenir
Articles | samedi 27 octobre 2012, 16h26
Le Vendée Globe 2012-2013 n'est pas encore parti que la SAEM Vendée pense déjà à l'avenir. Vendredi, les skippers désireux de monter un projet en vue de l'édition 2016-2017 étaient les bienvenus sur le village des Sables d'Olonne et ont été accueillis par Bruno Retailleau à l'occasion de la journée des skippers 2016. Objectif : s'imprégner de l'ambiance et prendre les premiers contacts.
Quatorze skippers de neuf nationalités différentes avaient rendez-vous vendredi au village du Vendée Globe des Sables d'Olonne pour la journée des skippers 2016. Invités à l'initiative de la SAEM Vendée et accueillis par Bruno Retailleau, ces marins qui rêvent du Vendée Globe ont pu visiter l'ensemble des espaces et des services qui font la richesse de cette épreuve unique au monde : village, PC presse, PC course, pontons, zone équipage... Une occasion pour eux de prendre la mesure de la dimension exceptionnelle de l'événement !
Cette visite guidée, menée par Denis Horeau, directeur de course, leur a également permis de découvrir toutes les articulations de compétences que demande l'organisation d'une telle compétition ainsi que les nombreux outils mis à leur disposition pour les aider à constituer leur dossier de sponsoring en vue de l'édition 2016.
« C'est la première fois que nous accueillons des skippers en vue de la prochaine édition du Vendée Globe, a indiqué Bruno Retailleau (Président du Conseil Général de la Vendée). Nous nous sommes rendu compte que nous ne pouvions pas nous contenter d'organiser cette course extraordinaire mais qu'il fallait également accompagner les marins très en amont pour leur donner un maximum de chances de s'aligner au départ. Le fait que de nombreux postulants à l'édition 2016 soient étrangers participe également de notre volonté de donner au Vendée Globe la dimension internationale qu'il mérite ».
Skippers présents
Thomas Ruyant (FRA)
Raphaël Dinelli (FRA)
Morgan Lagravière (FRA)
Guillaume Lebrec (FRA)
Cecilia Carreri (ITA)
Steve White (ANG)
Christophe Bullens (BEL)
John Mac Kay (ECO)

Skippers représentés ou attendus sur le village d'ici le départ du 10 novembre
Norbert Sedlacek (AUT)
Jeff Lebesch (USA)
Yannick Bestaven (FRA)
Ross Hobson (ANG)
Boris Hermann (ALL)
Alex Pella (ESP)

Ils ont dit… Steve White (Angleterre) : « Je suis sûr que participer à cette journée va aider à donner un peu plus de réalité à mon projet. Cela m'aide à structurer ma vision. Le Vendée Globe est tout pour moi, il éclipse tout le reste, à part ma famille. En terme de course à la voile, c'est le must absolu. C'est le test ultime à l'échelle individuelle et pour une raison bizarre, j'aime repousser mes limites ! J'aime également plus que tout être en mer ».

C

ecilia Carreri (Italie) : « Le Vendée Globe est pour moi un grand rêve, c'est le rêve de ma vie. Le fait d'être en contact étroit avec l'organisation lors de cette journée va m'aider à crédibiliser mon dossier de recherche de sponsors. C'est vraiment fantastique ! »

Thomas Ruyant (France) : « Je trouve l'initiative de l'organisation de cette journée très sympa. Je n'étais jamais venu aux Sables pour le départ d'un Vendée Globe. Je suis impressionné de voir à quel point c'est devenu une énorme organisation ».

Lionel Pariset (France) pour Norbert Sedlacek (Autriche) : « Norbert a déjà participé deux fois au Vendée Globe. Il veut revenir en 2016 après la construction d'un Open 60 fait d'un nouveau composite de balsa et de basalte, équivalent au carbone en terme de résistance et de performance ».

Christophe Bullens (Belgique) : « Même si ma participation à la dernière Velux 5 Oceans a été malchanceuse, j'ai vraiment très envie de participer au Vendée Globe. Je ferai tout pour être présent en 2016 ».

Raphaël Dinelli (France) : « Je suis actuellement très occupé à développer ma fondation et je ne peux pas prendre le départ cette année. Cette journée me fait réaliser à quel point cette course va me manquer. Je ferai tout pour être présent en 2016 à bord d'un bateau développé pour utiliser exclusivement les énergies renouvelables ».

Morgan Lagravière (France) : « Le Vendée Globe entre dans la logique sportive de mon parcou